In the third in our Conversations series, we talk to Sabina Vigani about building diverse coalitions to transform education in Côte d'Ivoire.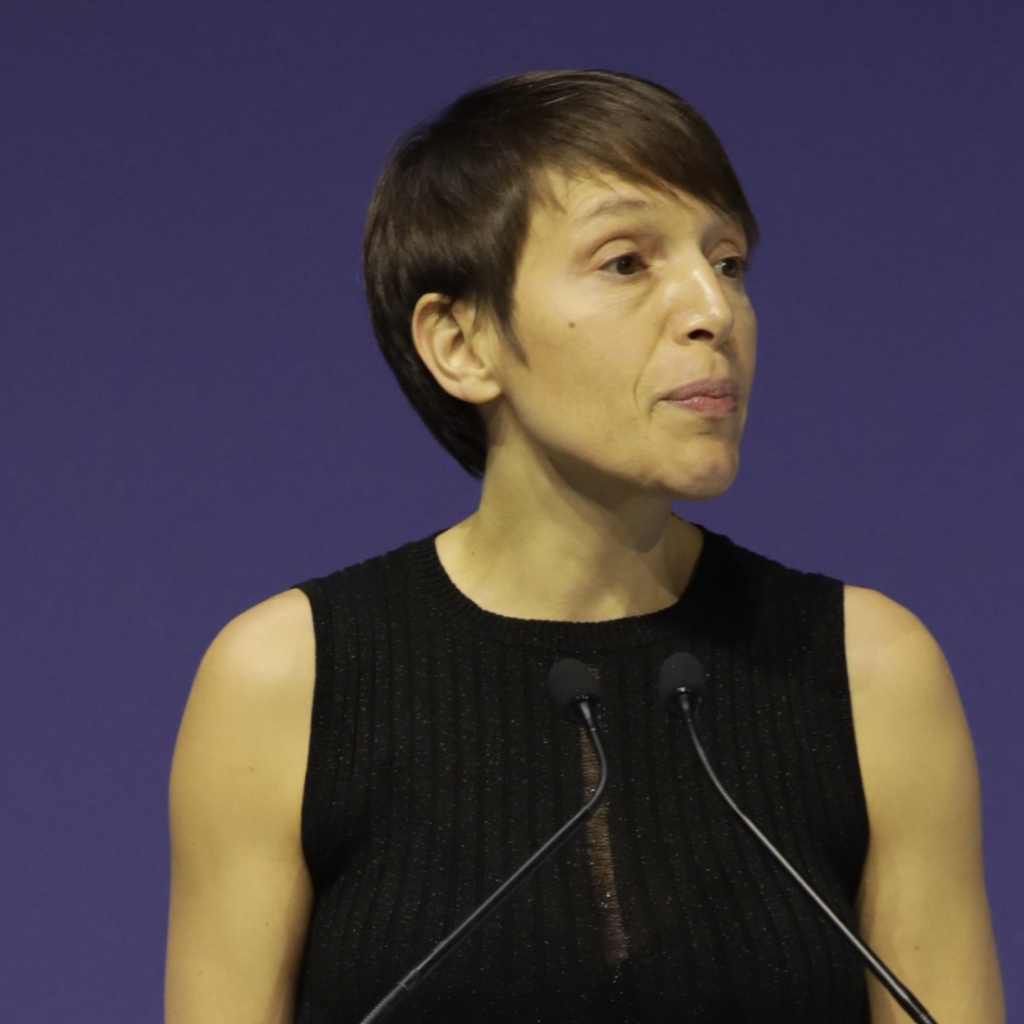 Tell us a bit about yourself. What was your role until recently at the Jacobs Foundation?
I moved to Côte d'Ivoire from Switzerland in 2006 to work on projects related to elections and human rights. I joined the Jacobs Foundation in 2015 when it opened its first office outside Switzerland, in Abidjan.
I was tasked with helping design and coordinate the implementation of Transforming Education in Cocoa Communities (TRECC), an innovative public-private partnership aimed at improving the quality of education. It brought together the government, the cocoa and chocolate industry, philanthropic foundations, researchers and academia, civil society organizations and social entrepreneurs. TRECC was an experimental coalition of stakeholders in the field of learning, driven by a shared aspiration to ensure that children are in school and learning, and to eliminate child labor in cocoa-growing communities.
What did you manage to achieve through TRECC?
The launch of TRECC marked a shift in the Jacobs Foundation's thinking from a traditional charity towards a more strategic and evidence-led approach.
As a result of TRECC, the Ministry of Education decided to integrate Teaching at the Right Level (TaRL) into the national strategy for foundational learning. Pioneered in India by the NGO Pratham, TaRL involves training teachers on child-centered playful learning strategies, with a particular focus on learners who are lagging behind.
Over the course of the five-year program, more than 200,000 children benefitted from education and early childhood development interventions. It was definitely a good achievement, but still a drop in the ocean considering the challenges facing children in Côte d'Ivoire.
TRECC was a five-year program that ended in 2021. What came next?
The Child Learning and Education Facility (CLEF) initiative – formalized in December 2021 – stemmed from the success of TRECC, building on what was learned, increasing scale and harnessing the nascent ecosystem that TRECC had established. It was designed to enable the scaling of evidence-based solutions – such as TaRL – to address the learning crisis.
CLEF is the largest partnership in education focused on a single country, with its founding partners – the government of Côte d'Ivoire, 16 cocoa and chocolate companies and two philanthropic foundations – jointly committing 69 million Swiss francs.
How did the Jacobs Foundation's experiences with TRECC inform the development of CLEF?
With the Brookings Institution, we identified some common ingredients for success in evidence-based education interventions. One of those was to help governments cross the 'valley of death', where only a few successful pilots manage to scale nationally. Indeed, most initiatives and projects across the social sectors die because people tend not to think about planning the scaling process, especially from a funding perspective. CLEF aimed to bridge this critical intermediary funding phase. We wanted to take the partnership to the next level.
Both TRECC and CLEF involve a wide variety of partners, from both the public and private sectors. Talk us through what it was like to convene all these different stakeholders.
When we started, the government of Côte d'Ivoire had never heard about this Swiss foundation – we first had to build a reputation. We had to build trust.
We sought to balance the Jacobs Foundation's ideas and clear priorities with a genuinely collaborative spirit, facilitating the government to co-design initiatives and to effectively lead on whatever emerged.
At the same time, we began to engage with cocoa and chocolate companies who would become critical partners. These organizations were already investing in several education projects as part of their sustainability strategies, but their activities were largely disconnected from the government and from each other. Companies had a project mentality, not a systemic approach. And they were not really speaking to the government to learn about their priorities.
Once this public-private partnership was established, how did you drive forward this joint work?
We took a step-by-step approach to win people's hearts. We asked our industry partners what they wanted to do and looked for areas of overlap with our mission. The first round of work in TRECC was more project-based but we were able to build relationships. In the second round of work in TRECC, we leveraged our education expertise: we took a more systemic approach and promoted solutions we knew were effective in other countries facing similar education challenges. CLEF is the third round, bringing the partnership to the next level – where public and private partners contribute funds to a joint facility to progressively scale effective solutions, starting in the regions with greatest need.
How did you ensure fruitful, productive discussions between the partners?
These very different stakeholders have different institutional missions, different working cultures, even a different language. This was about facilitating a mutual understanding, promoting dialogue, and trying to adjust and accommodate each other's institutional culture.
Donors often have a ready-made initiative. We did not have a template on how to conduct this process. All we had was a genuine will to listen deeply and understand the concerns and ambitions of all the stakeholders. And we wanted to understand the red lines so that we could design proper governance mechanisms to steer such a multistakeholder partnership.Humility is key, as is a willingness to listen and learn.
What were some of the challenges you faced, particularly in the early days of CLEF?
As we launched the idea of CLEF, we had to deal with a good pinch of polite skepticism by several interlocutors who did not believe that such a partnership could ever fly. Finding the right champions with the right decision-making power to transform the idea into reality proved challenging. Then we had to navigate COVID-19, the departure of a senior government champion, and changes related to the electoral cycle. All of this has considerably delayed the formalization of the CLEF partnership.
The Jacobs Foundation, as a philanthropic organization, is quite unique within the CLEF coalition. What role did it play?
The intermediation role of an honest broker is crucial. The Jacobs Foundation played this role throughout the TRECC program as well as in the preparatory phase of the CLEF initiative. The fact that the Jacobs Foundation contributes substantially to the funding of TRECC and CLEF gave it undeniable leverage.
The Jacobs Foundation is deeply committed to promoting the use of evidence in all the initiatives it supports. How did this inform your work on TRECC and CLEF?
We commissioned a landscape analysis to see which effective education interventions could address the learning crisis – this gave us examples of what works to show partners. We also mandated several researchers to investigate possible correlations and causal links between child labor and access to and quality of education. Cocoa and chocolate companies are not in the business of improving the quality of education. They needed to be convinced of the business case for investing in this area, as a preferred way to address one of the root causes of forced labor in their value chain.
This evidence-based approach created a 'neutral base' to make decisions from, avoiding any dependence on doctrine or opinion. This demonstrates how a Foundation can operate within such an exploratory space that many others would see as too much of a gamble.
What do you hope CLEF's legacy will be?
We set out to have a positive impact on 5 million children and their learning. This is the legacy we hope for, that literacy and numeracy improve as a result of what we (and others) are doing. We want to make sure that by the end of primary school all children in Côte d'Ivoire can read and do math. The government in Côte d'Ivoire is now finalising a national strategy for foundational skills that has TaRL as an important cornerstone.
I also hope CLEF will trigger wider systemic changes. It can serve as a blueprint to address complex social challenges efficiently. This requires coordinating efforts, aligning initiatives with national priorities, addressing the root causes of a problem, investing in relevant, effective and scalable solutions, and leveraging the benefits of cross-sectoral cooperation.
What lessons can you share with other philanthropic organizations?
If you want to disrupt business-as-usual, you have to be brave enough to stand out. Don't be afraid to stand alone and start your own dance. Not many people believed that we could make it. Foundations can afford to be braver and just try. Don't be afraid to fail, as failures can be a source of useful learnings too. And shoot for the moon! Even if you miss, you'll land among the stars.