The Start of Something New
18 December 2018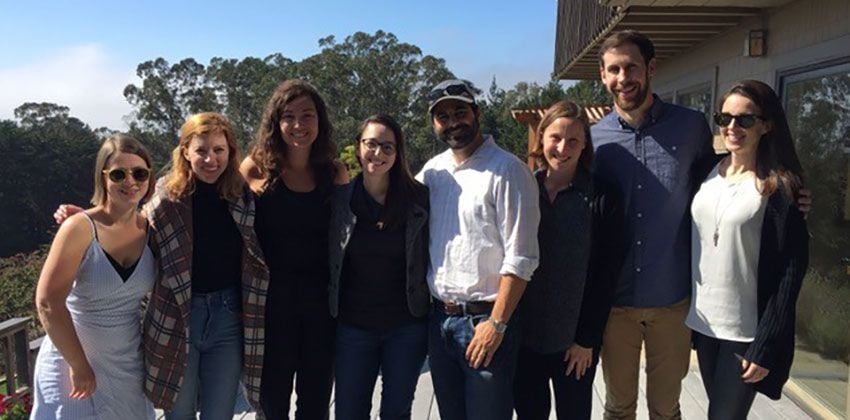 Jacobs Research Fellows and Jacobs Social Entrepreneur Fellows met from 19 to 21 October in Half Moon Bay, California, to find out how each other's unique expertise could best be of mutual benefit. One of the participants, Siobhan Pattwell, shares her insights from the meeting.
Sitting in the back of the airport-bound shuttle after several intellectually invigorating, scientifically stimulating, and purely blissful spring days at the annual Jacobs Research Fellows Meeting, I could not understand a single word that was being spoken, even though everyone in the van was speaking perfect English. But: I was the only scientist in a van surrounded by brilliant business and entrepreneurial minds. For fear of coming across as rude, I interjected that while I found their conversations fascinating, my lack of participation was grounded in the notion that I had nothing to contribute as they recounted Shark Tank pitches, budget outlines, valuations, and other financially savvy topics. Sitting beside me, Catherine Soler, a Social Entrepreneurship Fellow from UC Berkeley, admitted straightaway that she found herself feeling similarly perplexed during a large portion of scientific presentations and lunchtime discussions about statistical analyses, grants applications, and data interpretation.
With the help of the Foundation and exquisite attention to detail from Catherine, what started as a respectful admittance of ignorance for each other's expertise evolved into a series of emails, text messages, follow-up phone conversations, and the ultimate planning and hosting of the first West Coast Fellows Retreat. Merging both Jacobs Research Fellows and Jacobs Social Entrepreneur Fellows over the weekend of October 19-21st, in Half Moon Bay, CA, this retreat brought together equal parts Researchers and Social Entrepreneur Fellows with one common goal – to find out how we can best harness each other's unique expertise in mutually beneficial ways. In attendance for the retreat were west-coast based Research Fellows – Michael Frank (2017-2019), Celeste Kidd (2017-2019), Jelena Obradovic (2018-2020), Siobhan Pattwell (2017-2019) – and Jacobs Social Entrepreneur Fellows – Amanda Eller (2016-2018), Elizabeth Kuriakose (2017-2019), Tyler Saltiel (2016-2018), and Catherine Soler (2017-2019).
In addition to providing a casual and informal setting that allowed for conversation to flow effortlessly between all attendees, the relaxed coastal environment allowed for us to get to know each other both personally and professionally, which made it much easier to ask the so-called "silly questions" during the day's brainstorming sessions and facilitated discussions.  What became evident within the first few hours is that both groups of Fellows are able to provide valuable advice and insight to each other in ways that are reciprocally beneficial. In addition, each one of us had vastly underestimated the ways in which we can not only help each other, but in the specific ways that we can ask for help in return.
To highlight a few key points from the Researchers Seeking Help from Entrepreneurs:
Often understated throughout graduate school and postdoctoral roles, is the concept that on top of all of the scientific and advisory duties that come with running a lab, one will also be essentially handed the keys to a small business, replete with requirements for managerial tasks involved in hiring and overseeing individual teams and projects, budget analyses, conflict resolution, etc. – all skills that the Jacobs Social Entrepreneur fellows are well-equipped to help with. Additionally, Jacobs Social Entrepreneur Fellows have various training in securing and working with funding sources, maintaining donor engagement, and communicating with businesses or financial partners in ways that the Research Fellows do not.
To highlight a few key points from the Entrepreneurs Seeking Help from Researchers:
Entrepreneurs are often looking to research for supporting the structure of projects or teams at their respective organizations, but are not trained in the same ways as the Research Fellows on what research is valid, reputable, replicable, or relevant. Discussions centered around how to 'get to the truth in the data' or interpret large-scale studies when reviewing surveys and interviews, as well as questioning the best research strategies for driving behavioral change in entrepreneurial endeavors and non-profits – all areas where the Research fellows can provide ample assistance.
As many of us go through our scientific, business, or entrepreneurial careers, there will undoubtedly be a lot of trial and error. What this retreat demonstrated is that through utilization of our inter-disciplinary peers within the Jacobs network, we may not only be able to avoid common pitfalls, but we may be able to help each other grow and succeed in ways beyond our initial expectations.
Future regional meetings throughout the US and Europe between current Jacobs Research Fellows, Jacobs Social Entrepreneurs, and alumni, will have the potential to bridge some significant intellectual gaps in our own work, as well as facilitate open discussions on how we can best work together towards our individual career goals as well as the overall mission of the Foundation.
The Foundation will soon issue a call on how you can get involved in becoming a regional leader for future retreats.