Sustainability Practices in the Cocoa Industry
15 January 2020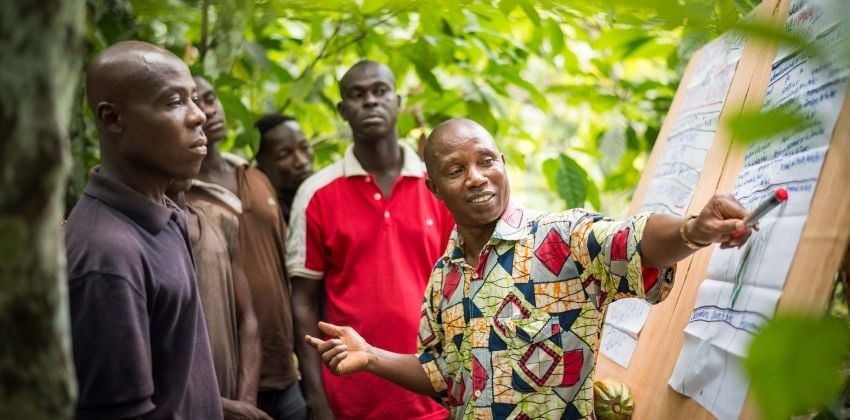 When it comes to sustainability, unfortunately, there are no shortcuts: it requires long-term investments and patience to achieve expected results. The same way that investing in organic fertilizer (often a synonym of lower short-term output and productivity) is the best solution for the long-term care of the soil and better health outcomes, investing in high quality early childhood education and primary school education in cocoa growing regions is the best path forward to eradicate the persistent development issues experienced in these communities.
Investment in early education allows the youth to develop the cognitive and social abilities they need to thrive later in life, effectively reducing illiteracy rates and putting in place the building blocks needed to create a strong base of human capital in these regions.
With the right combination of educated workforce and investment, cocoa farming, a job that is often associated with hardship and poverty, can become a career that is moving forward through innovation and technology – allowing workers to do more with less. Education provides the basis for empowerment and the opportunity for a generation to believe in themselves while achieving more than they could dream of without having to consider moving to the cities.
Investing in local social entrepreneurs to provide self-sustaining education solutions
To catalyse change and strengthen the education system in Côte d'Ivoire, TRECC aims to inform and empower an ecosystem of stakeholders based on previous evidence. This ecosystem includes the Ivorian government, the cocoa and chocolate industry, academia, funders, civil society and social entrepreneurs. Contextualised education solutions are at the core of the TRECC initiative and they are, among others, explored through an impact finance portfolio. With this portfolio, promising entrepreneurs in education are empowered. The final objective is turning them into local champions and leveraging the social impact in their communities.
The choice of using impact finance instruments was driven by the desire to promote the creation of entrepreneurial, self-sustaining solutions to local problems. Grant-based financing faces the risk of lacking sustained impact beyond the grant cycle. However, interventions that are either embraced by public structures or that are self-sustainable financially have a greater likelihood of scaling and lasting beyond the initial grant funding.  Impact investment or impact finance can be defined as using venture capital tools for the creation of social goods. An impact investor – as TRECC for example is – will invest in companies (often young ventures) with a business model that involves products and services solving an important social issue – in our case providing scalable education solutions improving access to quality education in an affordable way. The local businesses eventually provide a sustainable solution to the targeted issue. Additionally, the local entrepreneurs create a ripple effect in their environment, acting as relatable role models and mentors, and reinvesting in their communities in many ways.
TRECC directly and indirectly invested in 12 young companies that have the potential to create systemic change in the education space in Côte d'Ivoire. Through these investments, TRECC is supporting the actions of the cocoa and chocolate industry and the Ivorian government aiming to improve livelihood in rural areas, eventually leading to greater sustainable practices in the sector. More than half of the portfolio companies are tech focused.