Lessons learned in Uganda
5 March 2020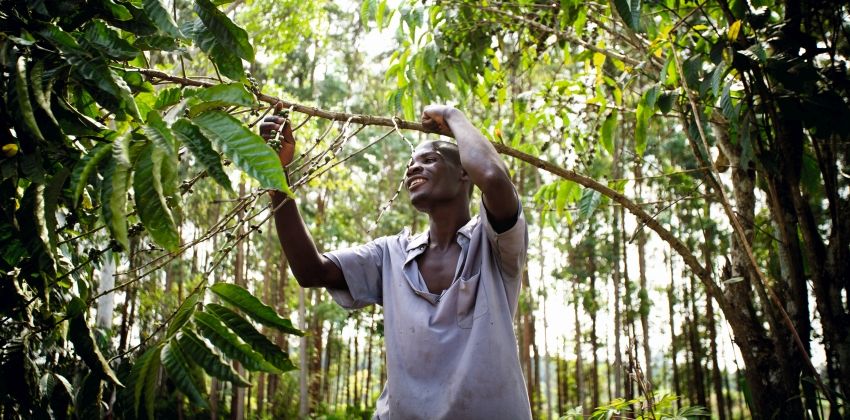 The Youth Development Project (YDP) shows remarkable results and has changed the lives of young farmers in Central Uganda.
Higher income, higher productivity and independence from parents are among the most striking results of the Youth Development Project (YDP) implemented in Central Uganda.
Five components – one goal
A combination of several components led to the project's overall success:
Youth farmer field schools offered a peer group learning experience that enabled learning through self-discovery and experimentation. Topics relevant for youth were discussed such as life and business skills, money management, and gender equality.
One-year vocational training enabled the project's participants to generate alternative income sources beyond agriculture thanks to training in crafts such as bricklaying, mechanics, catering, tailoring, IT/computer science or carpeting.
Training in gender equality and household planning through the so-called couple seminars supported the management of families' finances. These couples became role models for joint household planning within their communities.
From the start, training in financial literacy was part of the project. Village Savings and Loan Associations (VSLAs) were set up and disbursed loans to its groups' members.
Social events created cohesion among youths. Sports events and field days organized by the young people themselves enabled them to demonstrate to the community what they had learned.
Changing the lives of young farmers
The project successfully proved to its participants and their communities that agriculture does not have to be an activity that hardly allows you to survive, but that it can rather be an income source even for further investments. Furthermore, the very negative perception of youth by elders changed drastically from mistrust to pride in youths' achievement. Some youths (24%) managed to move from accessing informal finance to accessing formal finance through a bank or a microfinance institution. Additionally, young farmers took over more responsibility by entering the leadership of local producer organizations. Finally, anecdotal evidence of change in gender relations was recorded.
The Youth Development Project (YDP) was jointly designed by Jacobs Foundation and the Hanns R. Neumann Stiftung (HRNS) and implemented by HRNS in Central Uganda. Two years after the project end a qualitative evaluation was conducted in June and August 2019. The results of this evaluation are part of a lessons learned paper.
To find out more about lessons learned and recommendations for replication please download the complete paper below.