The Jacobs Foundation is pleased to be the Learning Science Partner of the seventh annual Global Education & Skills Forum (GESF) held from March 23-24, 2019, in Dubai.
Delegates at the Global Education and Skills Forum share, debate and shape new ways for education to transform our world. The Forum culminates in the awarding of the Global Teacher Prize, which recognizes the exceptional work that teachers do around the world.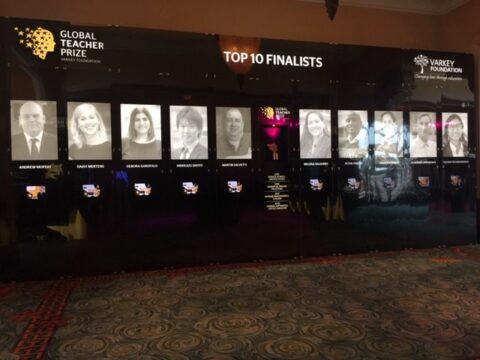 The Global Education and Skills Forum is an essential platform for collaboration and problem solving, where over 1,500 delegates move from 'how it should be' into innovative, multi-stakeholder 'how do we get there together?'
A world where labs and classrooms meet
Educational Neuroscience is closing the gap between the lab to the classroom. In time, this exciting new field of study and practice may provide innovative tools for educators and learners alike. On March 23, Gelgia Fetz, Program Manager Research at Jacobs Foundation moderates the roundtable "Promises and Pitfalls of Educational Neuroscience". Leading academic researchers and Jacobs Research Fellows like Daniel Ansari and Kaja Jasinska,as well as world class teachers discuss how a teacher's practice may relate to research findings – and how neuroscience may inform and even transform what happens in a classroom.
A world of untroubled adolescence
Adolescence is a fascinating and complex transition in life. Self-discovery. Emerging independence. Moving from childhood to adulthood. This is a highly formative phase where developmental challenges and opportunities can shape a learner's life course. For much of this century, scientists and scholars tended to assume that the changes associated with adolescence were almost entirely dictated by biological influences. On March 24, Simon Sommer, Head of Research at Jacobs Foundation moderates the research briefing "Learning and adolescence – risks and opportunities" to discuss with leading researchers and Jacobs Research Fellows like Paige Harden, Candice Odgers, and Jared Saletin how to embrace multi-dimensional views of this phase of life.
To find out more about the latest GESF follow the primary hashtags #GESF and #Changemaker on Twitter.
ABOUT GESF
Each year the Global Education & Skills Forum brings together world leaders from the public, private and social sectors and seeks solutions to achieve education, equity and employment for all.