Spotlight Switzerland – Digital Transformation At School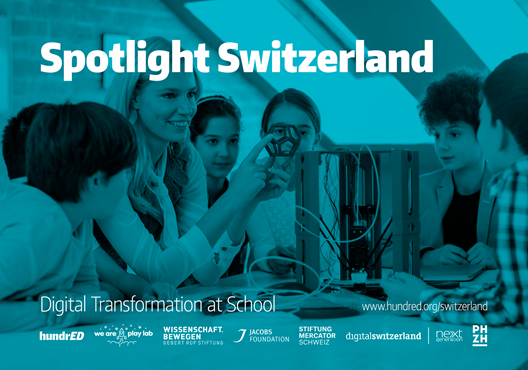 Spotlight Switzerland is looking for inspiring kindergarten, primary and secondary school educators who are embracing digital transformation in the classroom by experimenting with new teaching methods and tools, together with their students. Timeline: from May 1st to July 5th, 2019.
The ten most convincing good practices selected by an expert jury will receive grants summing up to CHF 120'000 for further development. These projects will be video documented and presented in the form of videos and a report during Campus Seminar in Zurich on October 30th 2019 and at the HundrED Innovations Summit in Helsinki on November 6th – 8th 2019.
Spotlight Switzerland is an initiative of HundrED, We Are Play Lab Foundation, Gebert Rüf Stiftung, Jacobs Foundation, Stiftung Mercator Schweiz, digitalswitzerland – next generation and Pädagogische Hochschule Zürich.