How well are students prepared for study, work, and life in a digital world? The recently released «International Computer and Information Literacy Study 2018» reveals some surprising results. 
Over the past four decades, information and computer technology has had profound impact on our daily lives, work and social interactions. The International Computer and Information Literacy Study (ICILS) measures international differences in students' computer and information literacy, namely their ability to use computers to investigate, create, and communicate in order to participate effectively at home, at school, in the workplace, and in the community. Participating in ICILS provides countries with reliable, comparable data about young people's development of 21st digital literacy.
Digital skills are not acquired just by using digital devices
However, the results of the 2018 cycle, which were published on November 5, 2019 were sobering: of the more than 46'000 students participating in the study, only 2% reached the highest level of computer and information literacy (CIL) ability. 18% of the students failed to reach even the lowest level of the CIL scale, which required them to demonstrate a functional working knowledge of computers as tools. In all, 25% students achieved the lowest CIL level.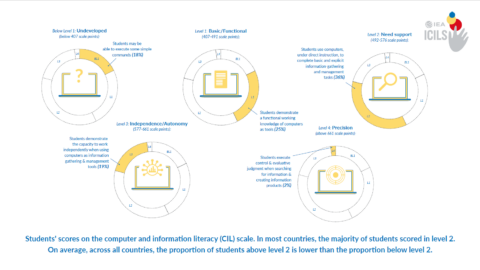 The results suggest that providing students or teachers with ICT equipment alone is not enough to improve their digital skills. Students need to be taught how to use computers effectively and teachers need support in their use of ICT in teaching.  
Role of Teachers 
However, while 70% of students attended schools where ICT coordinators indicated that digital content linked with textbooks was available for teaching and learning, just 32% of teachers in the study reported using this sort of digital content. This finding highlights that teachers need to be supported in their use of ICT in teaching. "It is pleasing to find that, across the participating education systems, on average, students and their teachers have positive attitudes towards ICT in education and society, even though they acknowledge potential areas of concern", said IEA Executive Director Dr Dirk Hastedt.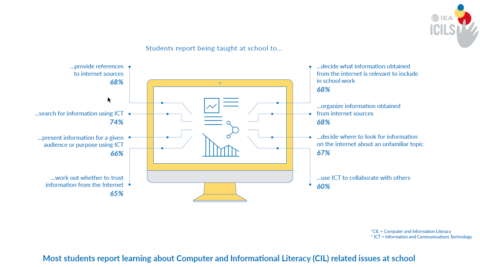 About the survey 
ICILS is a large-scale, international assessment of grade 8 students' computer and information literacy and computational thinking skills. This cycle (ICILS 2018) has seen more than 46,000 students and 26,000 teachers from following countries taking part: Chile, Denmark, Finland, France, Germany, Italy, Kazakhstan, Republic of Korea, Luxembourg, Moscow (Russian Federation), North Rhine Westphalia (Germany), Portugal, Uruguay, and the United States.